YCee Signs Exclusive Deal With Sony Music Entertainment Africa | SEE PHOTOS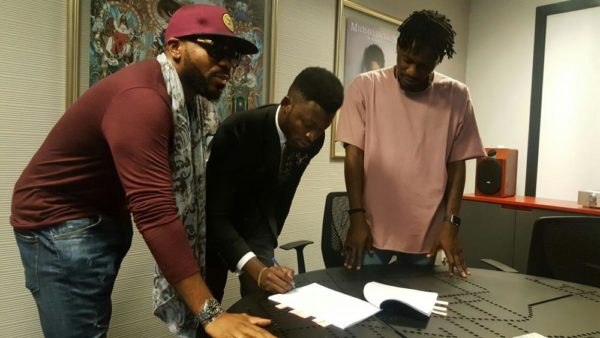 As part of Sony Music Entertainment's expansion across Africa, the label has announced an exclusive deal with Ycee of Tinny Entertainment, today in South Africa. The deal will see the rapper's first E.P, 'The First Wave' released under the Sony umbrella.
SEE PHOTOS BELOW:
With this move, Ycee joins the likes of Nigerian superstar Davido, as part of the Sony Music family.
Michael Ugwu, General Manager, Sony Music West Africa stated "I'm extremely proud to welcome Tinny Entertainment and the amazing talent that is Ycee to the Sony Music Entertainment West Africa family. I've watched this team grow over the past few years and I am amazed at how they have navigated the industry to reach this stage. Ycee is the future of Hip Hop in Africa and will be front"
Expressing his excitement at the deal, Ycee posted on Instagram "Great things happening, alongside Tinny Entertainment, I'm so proud to become part of the Sony Music family!"